As winter is fast approaching it can be difficult to know how to keep your flock warm and protect them against harsh winter weather. During the winter it can be common that chickens may stop laying eggs and even fall sick if the right measures aren't taken. Below we have listed a few tips that will help you protect your chickens this winter.
Keeping your chickens warm this winter
Keep the coop well ventilated
Ventilation is very important, while you shouldn't have any large holes in the coop which will let a lot of cold air in, you also must remember not to reduce the airflow to much in the coop. This could lead to very serious problems for your chickens such as ammonia build up and may even ruin the chicken coop or house with mould. To prevent against this, you should ensure you have the right ventilation in place.
Minimise drafts
Wind chill tends to accelerate heat loss in a coop. If your chicken coop is damaged or has holes in the walls, then it is a good idea to make sure that the air leaks are sealed during the night. You can use a piece of plywood and place it over the hole. All other gaps in the coop need to be covered to reduce temperatures dropping too quickly.
Trap heat using sunlight
You can also keep the chicken coop warmer by using the sunlight. During the day, heat from the sun can be captured to help keep the coop warm at night. Windows that are well insulated can also be used to trap sunlight by putting a dark slab floor. Increasing the amount of heat that a coop contains will help it to retain heat for long periods of time. Material such as compost floor and concrete will help retain more heat during the day and release it during the night.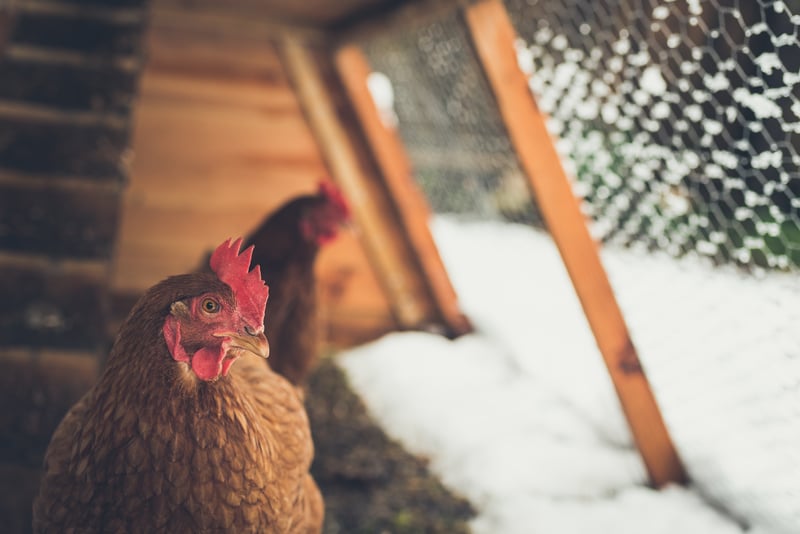 Create a sunroom
The flock tends to benefit more when they are allowed to move around freely. To create more space for them, you could build a sunroom. You just need to add some clear plastic to your chicken run or alternatively you could build a frame to use. This will help in sheltering them from the cold weather. This means that your chickens will have plenty of room and air as well as having protection from the rain and snow.
Artificial lighting
Chicken need around 16 hours of light a day to continue laying eggs. During the winter, you can use artificial lighting to provide enough light for your flock. A heat lamp in the coop will serve this purpose. The heat bulb can be replaced with a light bulb. The heat lamp should be set on a timer.
These tips will help you keep your chickens healthy during the months of winter. The coop should be well maintained, and keen attention given to the flock. This will guarantee that the chicken continues laying eggs and the flock don't fall ill. If you have any questions, please don't hesitate to contact us on 01903 756121 or alternatively head over to our contact page and fill in the online enquiry form.