How many chickens will be in the chicken coop you're planning? How much space do you have for it? What is the most appropriate material? These are important questions that need to be answered in order to find suitable chicken houses.
To start breeding or raising chickens, one of the first actions will be to acquire an adequate chicken coop, where the birds can rest and take refuge. This choice should consider the amount and size of the hens, as well as the characteristics of the environment where they will breed or live. Here are some tips to choose the perfect chicken coop for your chickens:
5 tips to help you choose the perfect chicken coop
1. How many chickens do you want to raise in each chicken coop?
Planning is everything when it comes to choosing the ideal chicken coop for your chickens. One of the most important steps will be to define the number of birds that will be in the henhouse. At the end of the day, there are chicken coops of various sizes available in the market and it will be necessary to lean towards one that provides a comfortable space for the birds.
Remember that chickens need lots of space to fully develop and maintain balanced behaviour. In addition, we recommend you choose chicken coops built in resistant materials and high durability.
2. Where will your chicken coop be located?
The location of the chicken coop and environmental conditions also play a key role in choosing the best product. If the henhouse is going to be outdoors, it must have a covered room where the birds can protect themselves from the rain. In addition, it is essential to pay attention to the microclimate of your region.
Chickens are sensitive to cold and climate changes, so they can get sick easily if they do not have adequate shelter. Therefore, if your region has very harsh winters, it will be essential to have a chicken coop that has at least one warm space.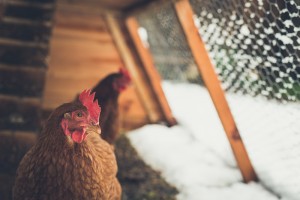 3. Consider the need to move the chicken coop
Eventually, it may be necessary to move your chicken coop around, either because of a move, an eventual renovation or to perform deeper sanitation. With this in mind, many experienced breeders choose to acquire mobile hens that move easily.
 In specialized stores, there is an important variety of mobile poultry houses, some more compact, others more elaborate. However, the most successful variety are the structures similar to wheelbarrows, which are installed on a uniaxial frame provided with wheels.
Another excellent option is the trailer style chicken coops. These structures are already manufactured with small rollers that facilitate their transport, so they are used even for the export of chickens between different establishments.
4. Do not forget to enrich your chicken coop
Depending on the purpose of raising chickens, the henhouse must be enriched with certain accessories. Undoubtedly, the most important of these is with respect to egg laying, an essential process for these birds.
 Hens lay eggs every day – hens need to have a shelter inside the chicken coop where they feel comfortable and safe to lay their eggs. Therefore, it is necessary to install nests that must measure at least 25 x 25 centimetres and contain straw inside.
The chicken coop should also have a room where the birds rest to replenish their energy. For this, a kind of hangers that the birds use to sleep are installed. In addition, it is necessary to define the feeding area and ensure that it is at a minimum distance from the resting and stool areas.
Additionally, it is advisable to incorporate a well-sized sandbox to the henhouse, as the chickens will enjoy and groom themselves in the sand, and it is a very easy accessory to install.
For this reason, before you decide on a chicken coop, remember to thoroughly consider each option and your future needs. Feel free to get in touch for more information.