What Should I Consider When Buying A Rabbit Hutch?
So, you've decided on getting a rabbit as a pet – great choice! But what next? Well, a good place to start is finding the right hutch for your bunny to call home.
Buying hutches can be a confusing process for first time bunny owners and there are plenty of things you need to consider. Size, design, potential add-ons and build material are just some of the things that you need to bear in mind when purchasing. Get this right and you will have a happy bunny that will live in a comfortable, fully secure home that is warm, clean and spacious.
The Size Of The Hutch
Keeping your rabbits comfortable is one of the key elements when buying a rabbit hutch, and the size of your hutch is a big factor in this. Your rabbits should have enough room to walk around, stretch their legs and explore in order for them to remain fit and healthy.
A hutch must generally be at least four times the size of your rabbit, with enough room for roughly 3 hops. That means that your hutch should be a minimum of 5ft long and 2ft high to give your rabbit enough room to stand up on their hind legs.
Inside Or Outside?
Rabbits are hardy animals and can be kept outdoors all year round. This doesn't however mean that they don't feel the cold and will need some extra protection during the cold winter months. Move your hutch into an indoor space such as an outhouse or garage during winter. Use a rain cover to protect from damp and cold if moving your hutch isn't a viable option.
Some hutches will be suitable for only indoor or outdoor use, whilst others will be versatile enough to do both. Our Smokey Grey 5ft Hutch for example comes with the option to buy a bottom tray that is used when moving inside.
Materials Used In Hutch
The material that your rabbit hutch is made from determines how well it keeps predators out and the overall comfort of your rabbits. Some materials may also contain chemicals that can harm or irritate your rabbits.
Wood is by far the most common material used for rabbit hutches. High-quality timber is durable and secure, whilst also being affordable.
Your metalwork also needs to be up to scratch too to make sure your bunnies are safe and secure. Our locks are made from galvanised metals to ensure long-term protection against corrosion and rust. Not only this, but they require minimal maintenance to make things nice and easy for you.
Reviews!
As with any purchase, it's important to read the reviews of your rabbit hutch before you buy. Reviews give a valuable insight into the quality, reliability and uses of a rabbit hutch from other similar customers. Ultimately you can determine the quality of a hutch to make sure you're making an informed decision to keep your rabbits happy.
Hutch Add-Ons
There are countless add-ons that you can get to make your hutch more comfortable for your bunnies. This can be anything from feeding products to toys to stimulate and entertain your rabbits.
Eggshell online also provides a range of high-quality rain covers to protect your rabbits from the elements. A damp hutch is uncomfortable and potentially dangerous for your rabbits as it can lead to illnesses. Not only this but rain covers help to protect from wind and forms a warm, comfortable bubble to keep your bunnies toastie on cold winter days.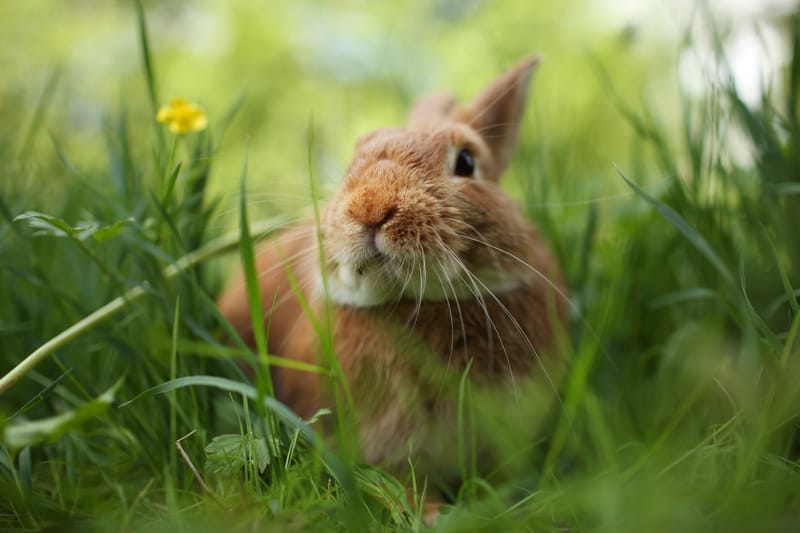 Ease Of Access/ease of cleaning
As well as making sure your bunnies are safe and comfortable, your rabbit hutch has to work for you too. Your hutch should have an easy-to-access design that makes cleaning quick and simple. Having a hutch that is difficult to clean may make you less likely to clean it, which can be harmful for your rabbits. Poor cleanliness leads to the buildup of bacteria or even flystrike in serious cases.
Some Popular Rabbit Hutches
Raised Hutch With Run
Our raised hutch/coop is a versatile product that can house chickens as well as rabbits. It is the perfect size for one small rabbit and offers a good combination of inside and outdoor space. It is made from high-quality wood with a metal-lined pull out tray, a front door with a ventilation window above and strong, durable chrome bolts for maximum security.
5ft Smokey Grey Rabbit Hutch
Another one of our most popular hutches, the Smokey Gray is the ideal home for your rabbits. It features two floors, the lower of which is built to be placed on grass to give your rabbits the feeling of freedom. This section is protected from predators using 3mm fox proof wire. It also features a removable tray for easy cleaning, galvanised locks for maximum security, and the option to add a rain cover as well as a bottom tray for indoor use.
Noah's Ark Style Rabbit Hutch
With its striking curved design the Noah's Ark is easily one of the most visually impressive rabbit hutches on the market. Rustic, round doors give access to the inside section and an inner sliding door allows rabbits to move into the run. This area is protected from predators with a strong wire mesh and overall build quality is of the highest standard.
Where Is The Best Place To Buy Rabbit Hutches?
Eggshell Online provides a wide range of rabbit hutches in various sizes and price points. All of our hutches are comfortable and welcoming, with the very best protective measures in place to make them the perfect safe home for your bunnies.
We have been manufacturing high-quality hutches for many years and have built up a trusted network of customers along the way. Don't take our word for it – read our product reviews to see how our impressive rabbit hutches have made many a happy bunny across the UK.
Contact a member of the Eggshell team today to find out more.